What is Laparoscopy Surgery?
Laparoscopic surgery, also called minimally invasive surgery or, keyhole surgery is a modern surgical technique in which operations in the abdomen are performed through small incisions (usually 0.5-1.5cm) as compared to larger incisions needed in traditional surgical procedures. Laparoscopic surgery includes operations within the abdominal or pelvic cavities. The Laparoscopic surgery approach is intended to minimize post-operative pain and speed up recovery times while maintaining an enhanced visual field for surgeons. Due to improved patient response, in the last two decades, laparoscopic surgery has been adopted by various surgical sub-specialties including gastrointestinal surgery (including bariatric procedures for morbid obesity), gynecological surgery, and urology.
Dr. Duke Prabhjot Jaspal
Laparoscopic & Endoscopic Surgeon
M.S, D.MAS, F.MAS, F.I.C.I.S, F.C.L.S, F.A.L.S, MRCPS(GLASG), F.I.C.S(USA), FACS(USA)
After Laparoscopy Surgery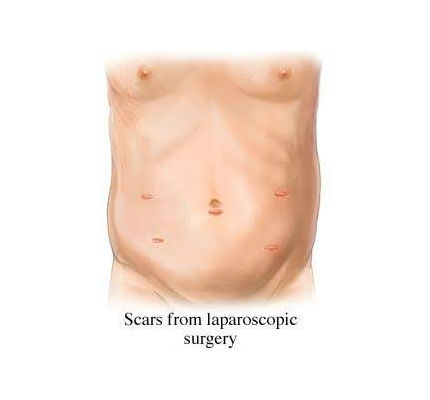 Jaspal Hospital is equipped with latest and the best laparoscopic instruments (Karl Storz, Germany, High Definition Camera) and is centre for advanced Laparoscopy surgery. A key area of focus for the centre is 'minimally' invasive ('keyhole') or laparoscopic surgery. It is well established over the years that this form of surgical management allows for a smoother and almost pain-free post-operative recovery thus making it the preferred modality in the surgical management of a now growing list of diseases.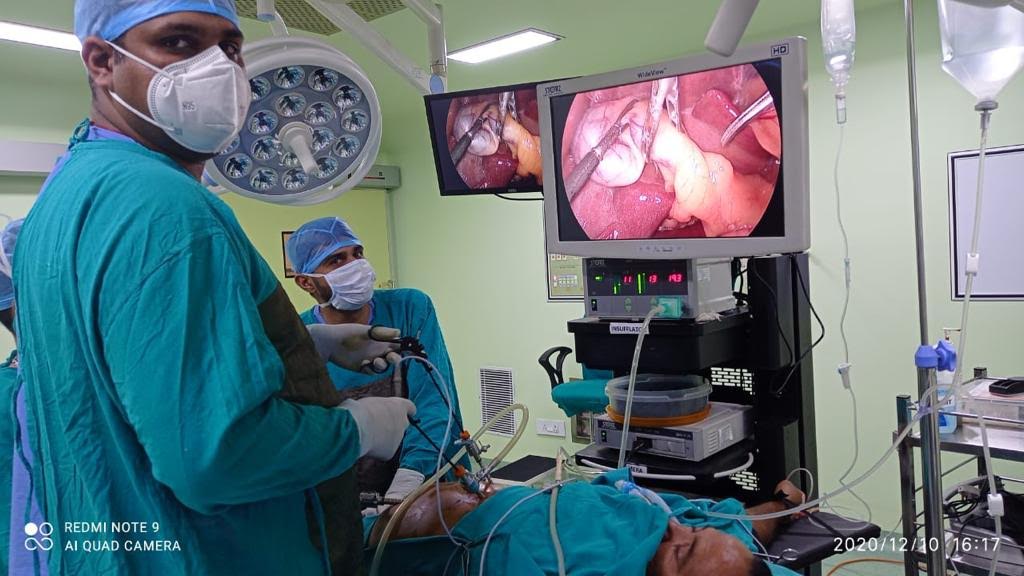 Types of Laparoscopic Surgeries Available at Jaspal Hospital
Frequently Asked Questions
WHAT SURGERY CAN BE PERFORMED LAPAROSCOPICALLY?
Laparoscopic surgery allows almost any procedure that is usually performed with a large incision (laparotomy) to be done with small incisions (usually less than 1cm). Laparoscopy is used to find problems such as cysts, adhesions, fibroids, and endometriosis. It is also used successfully for removal of some cancers (eg uterine cancer) and lymph nodes.
BENEFITS OF LAPAROSCOPIC SURGERY?
The benefits of laparoscopic surgery are smaller surgical scars, reduced blood loss during surgery, less pain following surgery, shorter hospital stay, and faster return to normal activities.
HOW LONG DOES IT TAKE?
A laparoscopic procedure may take between 30 minutes for a simple diagnostic procedure and up to 3-4 hours for a complicated cancer procedure. Patients with history of adhesions tend to have longer procedures. On average, a total laparoscopic hysterectomy procedure takes around 90 minutes.
IS IT SAFE?
Laparoscopy is a common and safe procedure. More than 25000 gynaecological laparoscopy procedures are performed in India every year.
Large studies show that the rate of all complications in laparoscopy is less than 1% (1 in 100), with the rate of major complications less than 0.5% (1 in 200). It is important to understand that all operations have some degree of risk. The most important way of decreasing the risk of surgical complications is to have it performed by an experienced surgeon such as Dr Amrish who has been well trained and has extensive experience in the procedure.
SUTURES/STITCHES AND WOUND CARE
Your wounds will be sutured with a dissolvable suture material and therefore no stitches are required to be removed. Occasionally the suture material can become irritating and poke out of the skin. The sutures will eventually dissolve but can be removed if they are causing discomfort. If the wound becomes red or any pus discharges from the wound you will require antibiotics for a wound infection. Once the wound is healed, you are recommended to apply a moisturizer twice daily for 2-3 months.
POST – OP
When you wake from the anaesthetic, it is normal to feel disoriented and sleepy. Some patients will experience nausea or vomiting, but these feelings should pass quite quickly.
There might be some pain at the site of the incisions, and you will commonly be given analgesics (pain-relieving medication). The carbon dioxide gas used during laparoscopy may sometimes cause a sensation of bloating in the abdomen and pain in the shoulder tips.
Depending on the complexity of surgery and the length of the operation, you will feel tired and have abdominal discomfort for a few days. There may also be some vaginal bleeding, particularly if there has been a hysteroscopy or curette procedure performed at the same time.
You will be given instructions about dressings over the wounds, and the stitches used to close the incisions.